International students and universities will be forced to stump up the cost of travel and quarantine as the federal government prepares for the first batch of students to arrive in Australia.
Trade Minister Simon Birmingham announced on Sunday that up to 300 students would start arriving in Adelaide as part of a pilot program to restart the international education sector which has been pummelled by the coronavirus pandemic.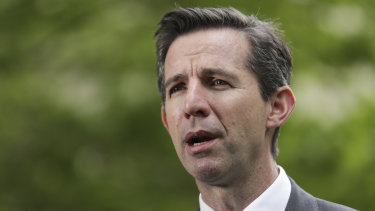 Universities are bracing for a potential $3 billion hit to their budgets from the COVID-19 outbreak. The Group of Eight – including the University of Sydney and the University of Melbourne – account for 65,000 of the more than 100,000 Chinese students stranded overseas, while students from other key markets including India, Nepal and Vietnam have also been stuck at home.
The students will travel from Singapore on flights arriving by early September. The group also includes students from Hong Kong, China and Japan.
Senator Birmingham said South Australia, which has had one confirmed COVID-19 infection from a returned traveller this week, would be used as a test case. Victoria is battling to contain a second wave, while NSW has been recording single-digit daily increases.
Senator Birmingham said South Australia had demonstrated it could repatriate Australians from overseas without community outbreaks and the same approach would be taken for international students.
"We want to make sure that anything that happens in relation to international arrivals coming into Australia is done with the strictest of safety standards in place," he said. "I also want to stress as well that no taxpayer dollars will be used in terms of supporting students flying into Australia or quarantining as is required."
International students, who pay an average of more than $30,000 a year to study in Australia have not been eligible for government benefits during the pandemic, prompting queues at restaurants and food banks for free meals. There were more than 500,000 international students in Australia at the start of the pandemic.
The first flights are set to increase pressure on other states to follow as the university sector sheds thousands of jobs to manage the revenue downturn.
The International Education Association of Australia lobbied the government when the pandemic was largely confined to China earlier in the year to allow universities to establish satellite campuses to educate international students away from major centres.
Student accommodation providers had also established plans to charter busloads of students to and from campus to their accommodation to avoid interaction with the wider community.
The new quarantine is expected to involve the standard 14-day hotel stay for all international arrivals before students are allowed to attend classes.
The flights are also likely to be a test of Australia's ongoing diplomatic feud with Beijing.
The Chinese Foreign Ministry warned students and tourists to reconsider travelling to Australia in June following reports of a spike in anti-Chinese discrimination after Australia called for an independent inquiry into the origins of COVID-19.
Read more: https://www.theage.com.au/politics/federal/international-student-flights-to-australia-to-restart-in-september-20200816-p55m8t.html?fbclid=IwAR0EKTaNx7CbsE7I8Hs8MT7uoXOHkw40XUUSklABn4uNJTpHhHn_OnNSOjY